[column col="2/3″]
Coming along to church for the first time (especially if you're not used to it) can be a little daunting. But we hope that when you show up at CCB you feel right at home.
Our banner outside says that we're a church for those who don't do religion. And so lots of the religious activity that you might expect at a church just isn't there. There's no robed choir, no monotonous liturgy and no mysterious unexplained ritual.
We try to keep it pretty simple.
We sing God's praises with a mix of the best contemporary songs and classic hymns. We pray together, with one of 0ur members leading from the front, and we join in with a collective prayer of confession. We hear from the Bible and listen to a talk on explaining the passage.
On Sunday mornings we have a kids slot in the services before our children head of to Sunday School. At the heart of our Sunday gathering for church is the encouragement, support and friendship that we receive from people that we're getting to know better.
Through the week we meet up in groups for Bible studies, prayer, and to spend time together.
[/column]
[column col="1/3″]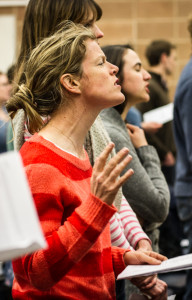 [/column]